Merry Christmas and a Happy New Year!
We are very proud of our Nordic region and to be a part of developing that further with enable new types of business solutions and investment collaborations. Our expertise is NPL portfolios in the Nordics, but we also like to enjoy the Nordic way of living and in that good food is a cornerstone. Each month we will give you our "Recipe of the month" that is something with a Nordic touch that can help you with some extra energy to you and your business. 
December and a lot of discussions on what to eat. Both during Christmas time and later on New Years Eve. But one of the other days it might be nice to test something other than Christmas food, what about this one (In Swedish this time):
Viltgryta med ädelost
Mustig viltgryta som värmer i vinterkylan.

4 portioner

700 g grytbitar av älg (även vildsvin, hjort eller rådjur funkar)
1/2 dl koncentrerad viltfond
1 gul lök
2 palsternackor
2 morötter
2 vitlöksklyftor
Olja
Salt och peppar

Marinad
3 dl rödvin
1/2 dl rödvinsvinäger
2 msk krossade enbär
1 tsk torkad timjan

Sås
300 g champinjoner
50 g ädelost
3 dl vispgrädde
1 msk soja
1 msk svartvinbärsgelé
Maizena

1. Häll ingredienserna till marinaden i en plastpåse.

2. Ansa köttet om det behövs. Skala lök och rotfrukter och skär i stora tärningar. Lägg i marinaden och pressa ner i vitlöken. Blanda ordentligt och låt marinera i kyl ca 5 timmar.

3. Värm olja i en gryta. Plocka upp köttbitarna ur marinaden och bryn dem lätt i oljan. Tillsätt marinaden med löken och rotfrukterna samt häll i fonden. Småkoka under lock ca 1 1/2 timme eller tills köttet känns mört.

4. Ansa svampen och skär i kvartar. Fräs i smör och tillsätt dem i grytan tillsammans med smulad ädelost, grädde, soja och gelé. Red med majsstärkelse. Smaka av med salt och peppar. Garnera med persilja.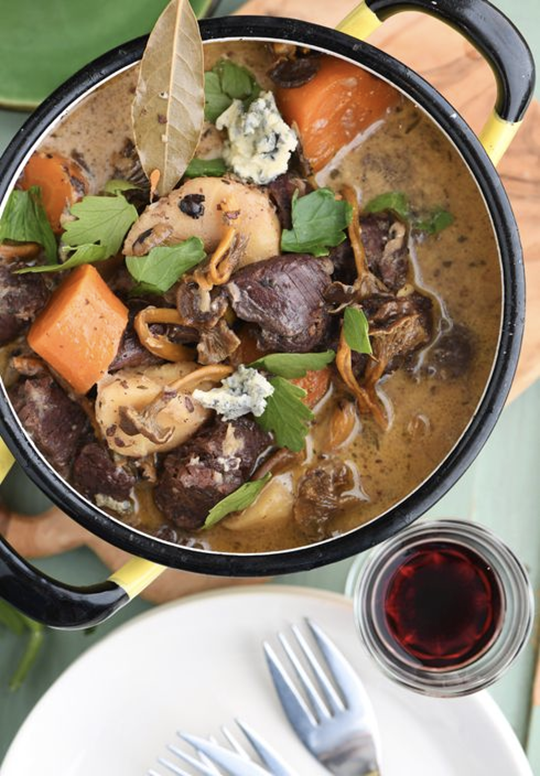 https://www.helixice.com/wp-content/uploads/2022/12/recipe-dec.jpg
360
960
Johan Gustafsson
https://www.helixice.com/wp-content/uploads/2021/07/logo89_Rityta-1.png
Johan Gustafsson
2022-12-20 09:00:01
2022-12-20 09:00:02
Recipe of the month – December